Iowa District East provides many services, programs and helps for the spiritual growth of our pastors. However, there is less offered for the spiritual growth of our pastors' wives. To improve in that area, we have been working on a short retreat for the encouragement and spiritual growth of our pastors' wives. This retreat will take place at Camp Io-Dis-E-Ca, beginning with 4:30PM check-in on Friday, November 1,  and ending on Saturday, November 2 around 3:00PM.
Our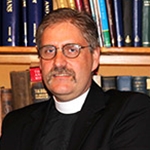 guest speaker is Rev. Dr. Matthew Rueger. The father of seven children, Matthew Rueger is currently serving as the sole pastor at Saint John Lutheran Church in Hubbard, Iowa. In 2016, his book, Sexual Morality in a Christless World, was published by Concordia Publishing House.  Dr. Rueger writes compassionately with a father's heart and adamantly with a fierce determination to outline the truth about sexual morality from a reasoned Christian perspective. He reminds us of the hope we have in Christ in the current sexual chaos of our times.
Wives Retreat Registration
Click the button to register online today or download a registration form!