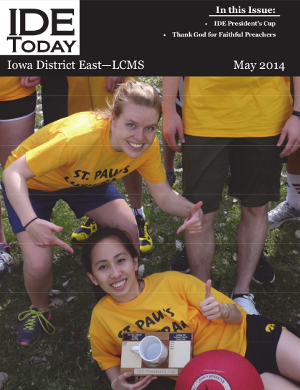 The May 2014 issue of IDE Today includes articles from President Saunders, Rev. Dr. Dean Rothchild and stories and photos submitted from congregations throughout Iowa District East.
President Saunders continues his article series on the 8th Commandment. This month he takes us through Matthew 18 and the Large Catechism.
Rev. Dr. Dean Rothchild takes a look at Law and Gospel preaching in his article, "Thank God for Faithful Preachers!"
Some highlights from congregations and organizations around the district include:
Highlight from the "Battle for the IDE President's Cup" an annual kickball game between the campus ministries at U of I and UNI.R
Results from the district spelling bee.
Camp Io-Dis-E-Ca's new Site Manager.
Baptisms, Confirmations, mission projects and more!
Check your churches for the latest issue or download a full-color digital PDF copy by clicking here.