President Saunders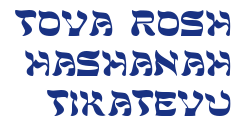 Greetings in the Name of Christ our Lord. The heading of this encouragement is my feeble attempt to communicate from Hebrew into English. The words read: "May you be inscribed for a good New Year." New Year's Day has come and gone and you have probably greeted many with "Happy New Year." This is an appropriate greeting yet so short lived. When does New Year turn into "intermediate year" or "old year"? Doesn't St. Paul tell us that the "old is gone and the new has come"? When Paul says that he is not speaking of a calendar turn from one month to the next or even one year to the next. He is talking about the eternal consequences of the "old Adam" with which we were born, which has given way to the new life in Christ we have through baptism. So, in Christ and His precious gifts, we have New Years every single day of our lives.
How sad it is for those who worship a Christless God, praying in the Hebrew language they are still looking for a Messiah to come. And how few in the current Jewish Faith are even looking for a Messiah. Most are looking for a Messianic Nation or a Messianic Age where the Laws of Moses will reign supreme and everyone will learn to get along in peace. Nice hope, empty promise.
Current day synagogue worshippers celebrate Rosh Hashanah on the first and second days of Tishri (Sept.). The reason they do this in the early Fall is to commemorate the creation of the world. For 10 days God passes judgment on the world so the first of the month (or the New Year) requires the Jewish religionist to think over his past deeds and try to make a fresh start during the coming year. Dietary rituals during these days include fish (for a prosperous year, God told Adam and Eve to multiply like the fish of the sea) and honey (sweetness in the days to come).
One of the more interesting customs is when they go to fresh running water on the first day of Rosh Hashanah. This ceremony is called Tashlich, and a prayer is said to the Almighty asking Him to wash away from them all their sins and drop them in the depths of the water. See how close to baptism one can get, but without Jesus baptism is simple water only. While current Judaism lives only on the hope of running water in a stream, we, the Holy Christian Church, have hope in the living Word of God. Not only do we hope in His Word but The Church is blessed to have the Word in physical form when the promises of God are attached to the waters of baptism. We don't just hope God will drop our sins into water so they can float away downstream. We have absolute confidence that the blood shed for us on the Cross has paid for all our sins in full. It was John who wrote in his first Epistle chapter 5 "This is the one who came by water and blood- Jesus Christ. He did not come by water only, but by water and blood, and it is the Spirit who testifies, because the Spirit is the truth. For there are three that testify: The Spirit, the water and the blood; and the three are in agreement." The blood of Christ splashed on us in the precious waters of baptism have given us what Jesus had earned by His death and resurrection.
That is why New Years is every day for the Holy Church. We are new every day and never without His grace and mercy. His Word and Sacraments are His gift to the Church. They make us new in His sight and we bask in them on a frequent basis, all year long. Our food is more fruitful than fish and sweeter than honey. It is His Body and Blood that forgives us and renews us while strengthening us without fail. In fact, we could actually think of each Divine Service as an opportunity to say "Tova Rosh Hashanah Tikativu". It has meaning far beyond a wishful ritual. It is a living reality in Christ Jesus our Lord. How blessed we are the first day of the year and as much so at its end. God be with you and bless you in His Divine Goodness.