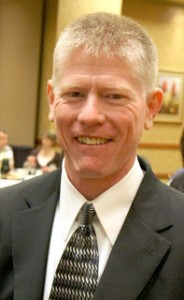 The words "thank you" are not printed that way in the English translations of the Bible. Yet they are expressed in multiple places. Most of the "thanks" in Holy Scripture are offered unto God for His great love and mercy. St. Paul gives "thanks" to God every time he remembers the congregation in Philippi. In other words Paul is saying "thank you" to the congregation in Philippi by thanking God for them. He does the same with the saints in Thessalonica when he says "How can we thank God enough for you in return for all the joy we have in the presence of our God because of you?" Once again Paul is saying "thank you" to the congregation and their partnership with him in the mission of the church by thanking God for them. Giving thanks to God for the blessing of others is very much a part of our Christian Faith and heritage.
In our English speaking culture, we are able to thank God for others by expressing thanks directly to someone else for who they are in Christ. The festival half of the Church year is coming upon us and is a time filled with golden opportunity to express gratitude to God by giving thanks to each other. The family setting is the best place for thanks to be given and expressed. Spouses that thank each other in front of their children set an excellent example of the baptized life. Fellow workers who show appreciation to one another speak a message to all who hear it. The congregation is a most excellent place to give thanks to God for one another. It is also a place to say "thank you" to one another in gratitude for God's grace and mercy in the fellowship of the Saints.
Thank you is never a phrase the bible shies away from. It is an honor to express it at every given opportunity. Saying "thank you" to your Pastor, DCE, Principal, Teachers, Sunday School Teachers, Deaconess, Elder, Organist, Choir Director, Usher, Fellow Member, and all others I have failed to point out, is speaking forth the same words as the Apostle Paul toward the congregations who received his epistles.
I would like to make special effort in this article to thank all of you, Church Workers and Parishioners, for your faithfulness to Christ and His Church. Your dedication to the Word of God and His mission is a great blessing. One of those blessings has been the IDE Today as edited and published by Pastor Mitch Otto. Pastor Otto has served with painstaking diligence the publication of this paper for the edifying of the Church. He is going to step aside from being editor and hand the mantel off to another. I and the entire district do offer thanks to our Lord for the service Pastor Otto has rendered. A note of encouragement and thanksgiving to Christ for Pastor Otto would be proper, and reflective of the love Paul expressed for the Philippians and the Thessalonians.
With gratitude and love for you all.
President Saunders