Rev. Dr. Dean F. Rothchild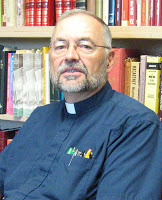 St. Paul wrote in Philippians 4:6-7, "Be anxious for nothing, but in everything by prayer and supplication with thanksgiving let your requests be made known to God. And the peace of God, which surpasses all comprehension, shall guard your hearts and your minds in Christ Jesus." Where does one start to give thanks? Giving thanks and saying thank you are not things which come to us naturally.
Most of you will be reading this sometime around Thanksgiving. We will gather together as the body of Christ in our congregations to again thank God for all the blessing which we have received in life. We will thank God for spiritual and material blessings. We will thank God for the fruits of the harvest. We might again thank God for the people who were spiritual stalwarts in our Christian life.
Paul tells us to be anxious for nothing. That can be difficult at times when we think our lives are lacking. That really becomes a First Commandment issue as Luther states: "We should fear, love, and trust in God above all things." My repentant cry needs to be, "Lord forgive me for my lack of trust in Your providing hand."
In looking at the words of St. Paul, we might be asking ourselves, "What is my prayer life like?" Luther once said "I have so much to do that I will spend the first three hours in prayer." Our response might be if I spend three hours in prayer, I won't get everything done. Maybe the bigger question would be: are we trying to do everything on our own or "with God's help and guidance?"
God well knows our needs before we ever ask Him. It is with thanksgiving that we can make our requests known to God. For God has provided us with everything that we need in and through His Son Christ Jesus. For in Jesus we have received "forgiveness of sins, life, and salvation." All that came about through the incarnate Son of God, who assumed our human flesh, lived the perfect and obedient life, fulfilled the Law perfectly, and then went to the cross as the spotless, sin-filled, Lamb of God, to take away the sins of the world. What was buried in defeat was raised in victory.
It is His peace which we have been given and in which we live each day. As the hymnist wrote:
Only Jesus can impart,
Balm to heal the wounded heart,
Peace that flows from sin forgiv'n,
Joy that lifts the soul to heav'n,
Faith and hope to walk with God
In the way that Enoch trod.
-LSB 611 st. 3
May you continue to come to the Divine Service to receive the gifts which Christ Jesus imparts through Word and Sacrament and you can give thanks!