Saturday, November 9
8:00 a.m. – 3:30 p.m.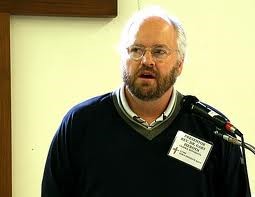 Our Redeemer Lutheran Church
904 Bluff Street
Cedar Falls, Iowa 50613
Why do men stay away from Church?
How can the Church help men?
Why do so many Men's groups fail?
What is Biblical Masculinity?
How can we encourage men to assume Christ-like leadership in the congregation and the home?
The Rev. Dr. Gary Zieroth, Senior Pastor of St. John Lutheran Church in Chaska, MN will  answer these and many other questions at an upcoming "Men's Retreat" in the District. This one day conference will be held at Our Redeemer Lutheran in Cedar Falls on Saturday, November 9 from 8:00 a.m. – 3:30 p.m. Pastor Zieroth will present materials similar to what he provided at the IDE Fall Pastors' Conference in 2010. Pastors who found that information helpful will now have the opportunity to put this information into the hands, heads, and hearts of the men in their congregations.
Pastors and laymen are encouraged to register. This Retreat would be excellent for Boards of Elders, Men's Club leaders, Men's Bible Study groups, or any man who would like to grow in his understanding of the significance of maleness in the Church of Jesus Christ.
The cost of the conference is $10, with a congregational maximum of $50. This will include refreshments, materials, and lunch.
If 2 or more men register from a congregation, your pastor's registration will be free! Bring your pastor with you!
Registration forms are available online at theforgivenessplace.org.
Simply click on the Men's Retreat button and you will find registration information.
Retreat Schedule
8:00 – Registration/Coffee
8:30 – Matins – District President Rev. Brian Saunders
9:00 – Session 1
Why do Men Stay Away from Church? The typical congregation in the U.S. draws an adult crowd that is 61% female and 39% male. As many as 90% of the boys being raised in the church today will abandon it by their 20th birthday. Many will never return. Of the world's major religions,only western Christianity has a consistent nagging shortage of male practitioners. Why? This session examines these questions further and helps to answer the question of why modern Christianity seems to be driving men away from the church.
10:00 – Questions/Answers/Discussion
10:15 – Break
10:30 – Session 2
This will be a continuation of the 1st Session. During this session Pastor Zieroth will also discuss Biblical Masculinity and the relationship between men and women.
11:30 – Questions/Answers/Discussion
11:45 – Lunch
12:30 – Session 3
How Has the Church Been Identified with Femininity?
Before the year 1200 A.D., men and women played an equal role (participation) in the life of the Church. Before this time, the relationship of the sexes showed no signs of imbalance. This session examines 3 trends that developed in the medieval Church that began to drive men away, and how Martin Luther tried to bring men back.
1:15 – Questions/Answers/Discussion
1:30 – Break
1:45 – Session 4
In this final session Pastor Zieroth will draw some conclusions and provide guidance for congregational leaders as they answer the question, "How can the Church help men?"
2:30 – Questions/Answers/Discussion
3:00 – Vespers – Pastor Michael Knox
Questions?
Please contact Pastor Michael Knox at Our Redeemer 319.266.2509 or through email
pastorknox@cfu.net.