Rev. Dr. Dean Rothchild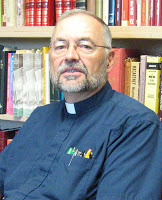 You may have joined the crowd which does much of its shopping online. A click here and a click there, a few numbers from a credit card, expiration date, and hit the buy button and you have made the purchase. Shortly after that in a day or two the items begin showing up. We have experienced that this summer as our youngest daughter was united in marriage and she had the presents which people bought on line shipped to our home.
After seeing how well that system worked my wife bought gifts online for the other three weddings we attended this summer. And we also know that those gifts were received as we got thank you notes from the bride and groom. It is truly amazing how that whole system works!
When it comes to the Divine Service we can be certain of the gifts which we are receiving. As we are assembled in the name of the Triune God, Father, Son, and Holy Spirit, He begins to generously bestow His gifts upon us as we are gathered as beggars who are ready to receive.
We know that after we confess our sins we are going to receive the forgiveness of sins bestowed upon us through the words of Holy Absolution spoken by our Pastor. What a blessing that is. Through those words, Christ takes what He earned through His suffering and death and places it upon us. What the beggar needs to receive is given and bestowed in those words of Absolution.
The sermon should be a concrete place where the Holy Gospel is proclaimed along with the Law. While we hope the sermon would always hit in the middle of the bulls eye, splattering and splintering us with the bloody cross of Christ Jesus, sometimes it might miss. The Law must first kill me so that the Holy Gospel can resurrect me. I thank God for the good and faithful preachers we have serving here in Iowa District East.
In the Holy Supper I know for certain what I am receiving: forgiveness of sins. Jesus is both the Gift and the Giver in this Holy Meal. He gives us His own body and blood, in, with and under, the bread and wine for the forgiveness of sins. That is so vital because I might have drifted off during the sermon or got distracted by a child and did not hear it preached. In this meal there is certainty. Jesus gives that which He says: His own body and blood for the forgiveness of sins. That is a meal of certainty. It reminds me of the certain words of I John 5:11-13, "And the witness is this, that God has given us eternal life, and this life is in His Son. He who has the Son has the life; he who does not have the Son of God does not have the life. These things I have written to you who believe in the name of the Son of God, in order that you may know that you have eternal life."